Trail and road closures due to ongoing work related to the Asbestos Release Site cleanup

Access to various trails will be closed intermittently throughout the summer. For a full list of closures click on the following link: More »
Fees & Reservations
Entry to Valley Forge National Historical Park is free of charge.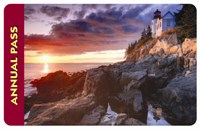 America the Beautiful
The National Parks and Federal Recreational Lands Pass Series
A pass is your ticket to more than 2,000 federal recreation sites. Each pass covers entrance fees at national parks and national wildlife refuges as well as standard amenity fees at national forests and grasslands, and at lands managed by the Bureau of Land Management and Bureau of Reclamation. A pass covers entrance and standard amenity fees for a driver and all passengers in a personal vehicle at per vehicle fee areas (or up to four adults at sites that charge per person). Children age 15 or under are admitted free.
Beginning January 1, 2012 Valley Forge NHP will no longer sell these passes. Passes can be purchased online and at REI retail stores.

Click here for more information on the 4 different America The Beautiful passes and to purchase one online.

---
Reservations:
Park activities and Trolley Tours do not require reservations, however The Encampment Store's private step-on tours do. Reservations for step-on tours may be made through The Encampment Store at 610-783-1074.
More about The Encampment Store.
Registration for groups of 10 or more:
Advanced group registration will improve the experience for groups of 10 or more visiting the Park. Knowing when your group is going to arrive will ensure that it will be best accommodated at the Visitor Center, Encampment Store, and Park Theater. The registration service is free, as is admission to all park facilities. Simply complete the on-line form; you will receive a registration confirmation within 48 hours. When possible, please try to give us at least 30 days notice of your group's arrival.
Register Here

Permits:
Special activities such as cultural programs, picnics, wedding ceremonies, and film and photography projects may require a Special Use Permit.
Click here for more information on permits.


Like the Park on Facebook

Post questions, stories, and photos of your visit to Valley Forge! Read More
Did You Know?

The tradition of citizen stewardship began in the 1870s and continues every day, as park volunteers and partners participate in the ongoing work of preservation and interpretation.  Each of them shares the vision of the Park as a meaningful place.