Join the Continental Army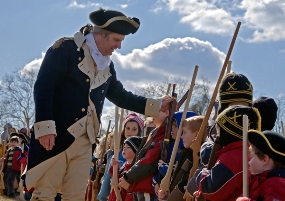 M.J. Ticcino
Children are invited to Join the Continental Army and experience a day in the life of the continental soldier. Recruits will be mustered, or registered, by receiving enlistment papers and continental currency. Recruits will then be issued wooden (dummy) muskets and learn how to stand, march, and carry their musket as one of Washington's soldiers would have done. Park rangers dressed in continental uniform will train the recruits in a full musket drill.
Attendees are encouraged to participate in the series of four Saturday training sessions in order to advance in skills and be promoted within the ranks of the Continental Army. Topics covered will be different each month and build upon the previous sessions. Children must be at least seven years old to participate in the Continental Army program. Children who cannot participate in the full four-part series are welcome to participate on any of the four Saturdays in the Army Essentials program during which they will learn the basic drills and commands of the Continental Army. The Army Essentials program is open to children of all ages.
Programs take place on the first Saturday of each month from January through April*
Programs begin at 11:00 a.m. at the Visitor Center. Please arrive by 10:45 to "muster", or sign in.
No reservations necessary. Weather dependent, activities will take place outdoors, so please dress accordingly and wear sturdy shoes.
For additional program questions, call 610-783-1099.
If you would like to be added to an email list to receive park event and program information, click here.
*A special Join the Continental Army program will take place on President's Day Monday during the park's celebration of Washington's Birthday. "Soldiers" will receive a formal inspection by the Commander-in-Chief, General Washington himself in addition to taking part in a multitude of special birthday activities.