Bringing the War of Independence to Life: 19th Century Illustrations of the American Revolution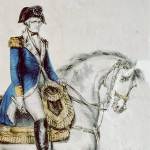 W. K. Hewitt
Published by Nathaniel Currier
Bringing the War of Independence to Life:
19th Century Illustrations of the American Revolution
February 22 - April 28, 2014
This unique exhibit features 42 Revolutionary War illustrations from the private collection of
Schuylkill River Heritage Area
Executive Director Kurt Zwikl. In the 19th century, a visual record of the Revolutionary War was created by artists whose drawings and paintings appeared in numerous publications, including periodicals, books and newspapers. Those illustrations served as both a form of entertainment and education to the general public who viewed them. Today, they continue to teach us not only about the history of our country, but also about the methods by which people and events of the Revolutionary Era were visually portrayed.
Artists include:
John Trumbull, 1756-1843
John Warner Barber, 1798-1885
Felix O. C. Darley, 1822-1888
Alonzo Chappel, 1828-1887
Howard Pyle, 1853-1911
Frederick Coffay Yohn, 1875-1933
and more...