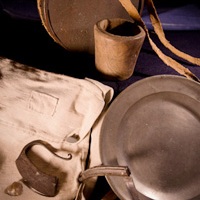 MJ Ticcino
The George C. Neumann Collection
Comprised of approximately 1600 historic items, the Neumann collection consists of four separate, yet related, parts: firearms, edged weapons, pole arms, and accouterments. It is through the study of these weapons and their use that we gain an understanding of how the common soldier achieved victory.
The John F. Reed Collection
This archival collection contains rare 18th century manuscripts, broadsides, pamphlets, and books collected by the late John Ford Reed. The best known of these documents is the letter written at Valley Forge by General Washington. Dated 23 December 1777, the letter expresses the plight of the American army.