Valley Forge National Historical Park is the caretaker of a diverse collection of artifacts and documents related to the 1777-1778 encampment at Valley Forge and to the soldiers and officers who fought for our nation's independence.
The National Park Service hosts a searchable online database of Museum Collections across the agency. View pieces of the Neumann collection as well as collections from other parks and museums across the country.
Artifacts and documents from the Neumann and Reed collections can also be viewed on The Digital Vault. The Digital Vault is a website designed to promote the George C. Neumann Collection and John F. Reed Collection. The site provides open online access of the museum collections at Valley Forge National Historical Park to visitors and researchers. This site was created by Matthew Albertson under the direction of Dona McDermott, Valley Forge NHP Archivist. Matthew is a Master's Degree candidate in history with a concentration in public history at Villanova University.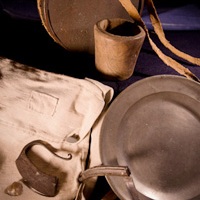 MJ Ticcino
The George C. Neumann Collection
Comprised of approximately 1600 historic items, the Neumann collection consists of four separate, yet related, parts: firearms, edged weapons, pole arms, and accouterments. It is through the study of these weapons and their use that we gain an understanding of how the common soldier achieved victory.
The John F. Reed Collection
This archival collection contains rare 18th century manuscripts, broadsides, pamphlets, and books collected by the late John Ford Reed. The best known of these documents is the letter written at Valley Forge by General Washington. Dated 23 December 1777, the letter expresses the plight of the American army.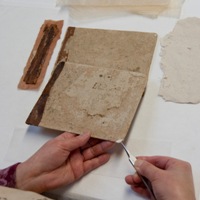 Preserving Historic Documents
To ensure the future of the documents inherited from John Ford Reed, the park received a Save America's Treasures grant to fund necessary conservation of 44 of the most fragile of these rare documents. Images and descriptions of the treatment received by two of the documents are now available:
View the steps in the Headquarters' Orderly Book Conservation
View the steps in the Steuben's Regulations Conservation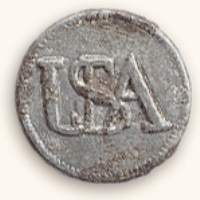 The Archaeological Collection
Extensive archeological work has been conducted within the park documenting various aspects of the encampment, including domestic life, military training, and demographic patterns. Archeological research has complemented and supplemented gaps in the historical record, and provided valuable information regarding the life and work of soldiers.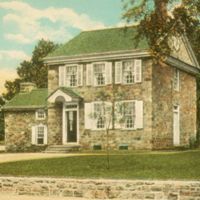 Photographic and Postcard Collection
Over the years the park has collected images of the historic houses and of the park grounds. These images document changes that have occurred overtime and help the park make positive decisions about the care of these national treasures. They also provide insight into how our history has been interpreted from the beginnings of the preservation movement to the present time.

Those interested in conducting research in the park's collections contact:
Dona M. McDermott, Archivist
Valley Forge National Historical Park
1400 N. Outer Line Drive
King of Prussia, PA 19406-1009
Office: 610-783-1034
Fax: 610-783-1060
Email: dona_mcdermott@nps.gov