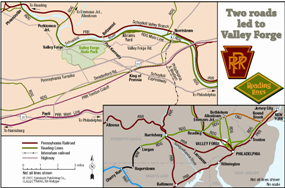 Courtesy of Classic Trains Magazine
Not since the Continental Army marched out of Valley Forge had so many troops encamped on this hallowed ground. The boy scout camps were established much as soldier camps had been during the 1777-1778 encampment: grouped by region, state, or country. As the scouts arrived, they worked as the soldiers did, putting up tents and kitchens. The scouts established a new tradition: erecting regional gateways. Just as during General Washington's time, Valley Forge became a small city.
Two Reading Railroad's stations served the park: Valley Forge (right) and Port Kennedy (below). Platforms at each station were expanded to serve the 34,000 scouts that attended the 1950 Jamboree and the special sightseeing excursions. During that jamboree the Reading operated 110 special trains, using 50 locomotives and 450 coaches, diners, baggage cars, and sleeping cars.