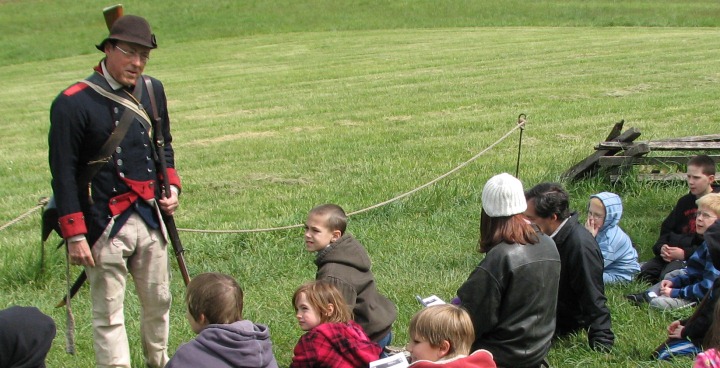 NPS/RBSchier
We are no longer taking Field Trip requests for the month of May as all dates have been booked.
Whether you plan your own trip entirely, or request a ranger-led program, there are many great ways to explore, learn, and enjoy Valley Forge National Historical Park. Please be aware that ranger-led programs are taken on a first come first served basis and will be considered based on dates requested and ranger availability. Home school students may take advantage of our semi-annual
Home School Days
, where students rotate through multiple stations for a unique hands-on learning experience. All education programs are offered free of charge.
Plan A Field Trip
Field Trip Season
October - May: Tuesday, Wednesday, & Thursday
Soldier Life
Grades 3-12
1 hour 30 minutes Class Size: 50 maximum/15 minimum*
Students will learn about the life of the soldier at Valley Forge. Conducted by park rangers dressed in period clothing, this program emphasizes how the men and women of the continental army persevered through the hardships of the winter encampment and how the soldiers trained to become an effective force that eventually won the fight for independence. The program includes a march with a park ranger to the Muhlenberg Brigade for a living history demonstration.
Soldier Life with additional Washington's Leadership Learning Experience
Grades 3-12
2 hours (plus approx. 15 min driving time) Class Size: 50 maximum/15 minimum*
Extend your learning and take full advantage of your field trip to the park by adding a thirty-minute guided tour of the Washington's Headquarters complex to learn about the General's unique leadership qualities that kept the American Revolution alive. A park ranger will meet your group at the Valley Forge Train Station for a guided tour of Washington's lifeguard huts, the Houdon statue of Washington, and the historic house that served as Washington's command center and George and Martha's residence during the winter encampment.

As an extension of "Soldier Life" your students may participate in "Washington's Leadership" program at either 11:45 a.m. or 12:30 p.m., which allows you to choose from several other options to best complement your day. You may proceed directly to the Train Station for your tour or you may break first for lunch at one of the park's picnic areas, explore the Visitor Center or Train Station exhibits, or visit another park site such as the National Memorial Arch.
*Exceptions to the class size requirements may be granted to special needs classes
If your group is planning to visit Valley Forge over the lunch hour we suggest packing a picnic lunch, as there are no full-service concessions on the premises or indoor dining facilities. The Wayne's Woods and Varnum's Picnic Areas are best suited to accommodate school groups, as they are both situated along the main tour route of the park.
Other helpful trip planning quick links:

---
Requesting Your Education Program
Programs are reserved on a first come, first served basis. Applications must be submitted at least 3 weeks prior to your requested program date. Applications will be considered based on dates requested and ranger availability. Decisions will be made within one week after the submission of the application. You will receive a completed form with the reserved date and time as your confirmation.
Directions for filling out your application:
Download the

Field Trip Reservation Request Form (PDF file) and save the form to your computer (click on the link to open, then save)

Print the form and fill out all fields

Scan the completed form and email as an attachment to vafo_education@nps.gov or
Fax the completed form to 610-783-1038
Questions about filling out or submitting the form or additional logistical/programmatic questions please call 610-783-1066. Please leave a detailed message with your question(s) and your contact information and we will promptly respond.
To download the reservation request form, your computer will need to have a version of Adobe Reader 8, or newer, installed. You can upgrade to the latest version of Adobe Reader for free from http://get.adobe.com/reader/ For further support, go to http://helpx.adobe.com/reader.html