Public Archeology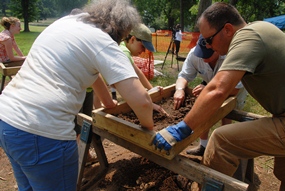 NPS/Loeb
1st Virginia Brigade Excavation
The public is invited to participate in an archeological excavation this summer of the 1st Virginia Brigade site at Valley Forge National Historical Park. The excavation project will run Monday through Friday from June 24 through July 19, with the possibility of additional weeks depending on how the work progresses. Volunteers will have the opportunity to screen for artifacts and process them in the field laboratory.
The 1st Virginia Brigade was under the command of Brig. Gen. Peter Muhlenberg and was situated at the eastern extreme of the Outer Line of Defense. This area is currently the site of many of the park's living history demonstrations. The park is planning to renovate the area and in preparation for the project archeologists conducted a geophysical survey in December 2012. A number of possible archeological features were identified during the survey. The excavations this summer will examine the geophysical anomalies to see if any of them are encampment-era features.
No experience is necessary for screening. Youth from ages 8-12 can participate with a parent present; 13-17 with parental permission. All volunteers must register in advance. Information about volunteer qualifications, safety information, and the volunteer application are available on volunteer.gov.
Contact:
Project Supervisor, Liza Rupp
610-783-1028 or liza_rupp@nps.gov
Volunteer Coordinator, Ernestine White
610-783-1029, or ernestine_white@nps.gov

Follow the program on the Archeology Blog!
Did You Know?

Valley Forge has 1.3 million visitors a year who enjoy the beauty, history, and trails and recreational resources of the Park. One third are regional repeat users.