Trail and road closures due to ongoing work related to the Asbestos Release Site cleanup

Access to various trails will be closed intermittently throughout the summer. For a full list of closures click on the following link: More »
Reading, Writing, and a Revolution!
Valley Forge is central to America's independence as well as many other cultural and natural stories. Find lesson plans, kids camp info, plan your field trip and more as you use Valley Forge as your classroom. Look to the park for your own professional development needs.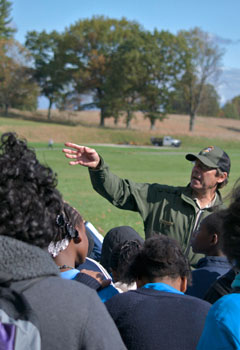 Features
Home School Day

Home School families are invited to Valley Forge for a unique educational experience with interactive stations and programs just for them.

Read More

Summer Teachers Institute

Experience place-based learning as you tour the historic sites of Washington's Philadelphia Campaign of 1777-1778.

Read More

Bring Valley Forge to Your Classroom

Introduce your students to the wonders of their neighborhood national park and entice them to visit Valley Forge with their families in your classroom

Read More