Upcoming Visitor Center Construction Projects

Beginning April 22, improvements to the Visitor Center complex will be made and periodic closures will occur over a two-week period. Plan your visit with this information in mind. Further details and dates will be made available as possible. More »
Reading, Writing, and a Revolution!
Valley Forge is central to America's independence as well as many other cultural and natural stories. Find lesson plans, kids camp info, plan your field trip and more as you use Valley Forge as your classroom. Look to the park for your own professional development needs.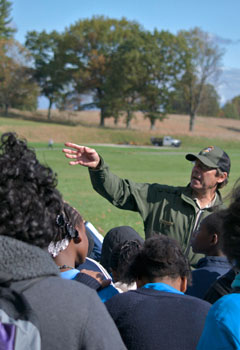 Features
Field Trips

Bring your class to Valley Forge learn about the life of the soldier during the Revolutionary War.

Read More

Bring Valley Forge to Your Classroom

Introduce your students to the wonders of their neighborhood national park and entice them to visit Valley Forge with their families in your classroom

Read More

Survive and Thrive

Will your students strive to survive or survive and thrive? Explore the challenges the Continental Army faced during their winter encampment.

Read More