Zane Grey Catch and Release Fishing Derby
Zane Grey was an avid fisherman throughout his life. Growing up in Zanesville, OH in the last decades of the 19th century, young Zane found an unlikely companion and mentor in a lovable tramp whose nickname was Old Muddy Miser. Old Muddy Miser was the man responsible for teaching Zane about fishing and encouraging him to pursue the sport no matter where he ended up in life. Taking Old Muddy Miser's words to heart, Zane spent as much time as he could fishing. After graduating from the University of Pennsylvania School of Dentistry he established a successful practice in Manhattan.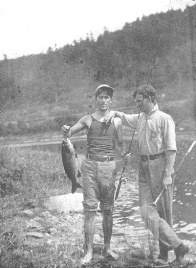 At the turn of the 20th century the Upper Delaware region became a refuge from the sweltering and crowded conditions in New York City. Located on the banks of the Delaware River, Lackawaxen, PA offered a convenient and quiet place to escape and allowed Zane easy access to some of the best fishing in the area. The Delaware River was very important to Zane Grey's career as well. Some of his professionally written articles were about fishing on the Delaware River. In 1902 the article "A Day on the Delaware" was published in Recreation magazine.

As Zane became a successful author he was able to commit financial resources to fund deep sea expeditions. It was on his trips to places like Tahiti, Australia, and New Zealand that Zane achieved many world records with his fantastic catches of fish over 1,000 pounds. These expeditions made Zane an expert and pioneer in deep sea fishing techniques and lore.

However, Zane never lost the love that he had for the Delaware River and the many streams and rivers such as the Lackawaxen River or Masthope Creek where he and his brother first began fishing for trout and bass. Now it is time for you to get out your rod and reel and try your hand at plying the waters that Zane fished when he lived in Pike County.

The Zane Grey Catch and Release Fishing Derby runs from April 12th through July 6th. Simply catch "the big one" and take a photograph on the official ruler and send your image to the Pike County Historical Society at pikemuse@ptd.net. Of course release your catch back into the waters that it was caught in. You can obtain a ruler at local bait and tackle shops and at the Zane Grey Museum. Winners will be selected from the largest fish caught in three categories: Youth male (up to 15), Youth female (up to 15) and Open Class. Winners will be notified by July 11th and awards will be presented at the 10th Annual Zane Grey Festival at the Zane Grey Museum in Lackawaxen, PA. The Zane Grey Festival is a family friendly event that explores the natural and cultural history of the Upper Delaware Valley as well as Zane Grey. The festival runs from 10:00am - 4:00pm on Saturday, July 12th. For more information about the Zane Grey Catch and Release Fishing Derby or the Zane Grey Festival please call 570-685-4871.

Good luck to all anglers!!
Zane Grey Catch and Release Fishing Derby
When: Derby Timeframe - April 12, 2014 to July 6, 2014

Where: Game fish targeted are smallmouth bass, rainbow, brook, and brown trout, caught on the Zane Grey waters of the Delaware River, the Lackawaxen River, their tributaries, and all the flowing waters of Pike County.
Eligibility: Youth and licensed anglers: fly-fishing or conventional tackle. Three prize categories: Youth Male (up to 15 yrs), Youth Female (up to 15 yrs), and Open Class.

Objective: Foster awareness of "Catch and Release:" promote youth fishing: help celebrate "Pike 200" and the Zane Grey Festival.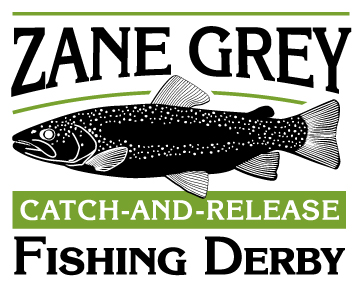 Tournament Rules
This tournament is open to all anglers, no pre-registration or entry fee. To enter, simply take a photo of your brown, rainbow or brook trout or smallmouth bass placed on the "Official Ruler" and email it to
pikemuse@ptd.net
along with the name of the angler, age if in youth division, and certify that the entered fish was caught in "Zane Grey" Waters and promptly released unharmed to the water. Dead fish not eligible. Winners will be contacted by return email, prior to July 12, 2014.
Catch and Release Protocols
Pinch the barb on your single hook. Play the fish quickly. Wet your hands or use a catch and release landing net. Remove fish briefly from the water for the photo only. Avoid the eyes and gills while using a hemostat to remove the hook. If hooked too deeply, cut the line and release promptly. Face the fish upstream, gently "swim" in the current to help water through the gills. Once the fish recovers,
RELEASE
. Be thankful for the fish!
Did You Know?

Prolific western author Zane Grey lived in Lackawaxen, Pennsylvania from 1905-1918. He began his writing career relating stories of his experiences fishing along the Upper Delaware River. Lackawaxen always held a special place in his memories, and was chosen as the site of his final resting place.