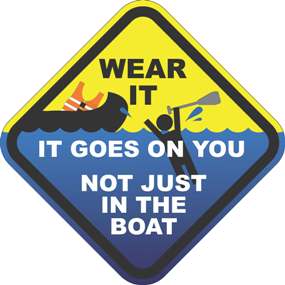 If You Capsize...
Don't panic. Stay upstream of the boat so it does not pin you against a rock.


Don't attempt to stand in rapids. Get on your back and keep your feet up and pointed downstream to push off obstacles.
Never swim against the current. Backstroke and let the current naturally take you to shore.

Never try to stand in rapids. Your foot could become trapped between submerged rocks. The current can be strong enough to push you over and hold you under even if you are wearing a life jacket.
Swimming Safety
There are no designated or life-guarded swimming areas on the Upper Delaware River, swimming is not recommended!

Wear a life jacket and appropriate footwear while swimming, wading, or floating.

Do not jump or dive from cliffs, rocks, or bridges into the river; the water may be shallow and objects can be submerged. Rivers are constantly changing, especially with high water. Rocks can show up in a places they never were before.

Never attempt to swim across the river.
Even the strongest swimmers can become fatigued. A large number of drownings occur this way.
Emergency Contact Numbers:
If you have questions or need assistance, look for National Park Service rangers or volunteers, who are there to help.
In an emergency call 911.

National Park Service 24 Hour Dispatch: 570 426-2457

New York State Police
Delaware County: 607 467-3215
Sullivan County: 845 252-3212
Orange County: 845 856-6500

Pennsylvania State Police
Honesdale: 570 253-7126
Blooming Grove: 570 775-7374
Cell phones may not work along the river.