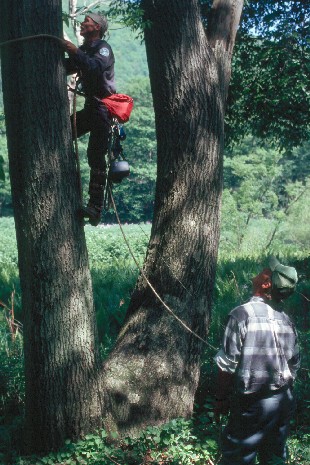 National Park Service
Until recently, your chances of actually seeing an eagle along the Upper Delaware were slim. That has changed, thanks to recent cooperative efforts to improve environmental conditions and to re-establish the bald eagle in the eastern United States. After nearly disappearing from most of the United States decades ago, the bald eagle is now flourishing across the nation and no longer needs the protection of the Endangered Species Act. After removal from the nations list of threatened and endangered species in 2007, the bald eagle continues to be protected under the Bald and Golden Eagle Protection Act and the Migratory Bird Treaty Act. Regionally, the Upper Delaware River has played an important role in this population growth. Both New York State Department of Environmental Conservation and Pennsylvania Game Commission have had bald eagle restoration or "hacking" programs.
With proper technique and planning, winter eagle-watching has become a popular off-season activity in the Upper Delaware Valley.
Delaware Highlands Conservancy works cooperatively with the National Park Service and with New York State Department of Environmental Conservation to help visitors find and properly observe wintering eagles along the Upper Delaware River. The Upper Delaware River offers several eagle viewing spots where creeks and other rivers meet the Delaware.