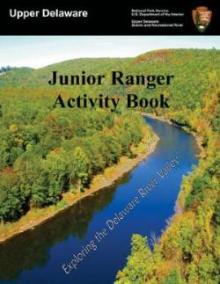 Would you like to learn more about the Lenape Indians or Roebling's Delaware Aqueduct? What about the bald eagle soaring overhead or the fish swimming in the river? Try your hand at writing a story like western author Zane Grey did near the banks of the river. The Upper Delaware Junior Ranger Activity booklet will allow you to explore the natural and cultural world in and around the Upper Delaware River. The booklet is recommended for ages 5-12 but is fun for all ages.

Free Junior Ranger booklets are available at the Zane Grey Museum, Park Headquarters, or Park Ranger kiosks located at four river accesses. After a Junior Ranger booklet is completed, a ranger will sign the booklet and give the Junior Ranger a badge or a patch!
Other Junior Ranger Activities

For more ways to be a Junior Ranger, visit WebRangers. You can learn more about the National Parks, play games & activities, and create you own Ranger Station.