Things To Do
There are many things to do and see at Ulysses S. Grant National Historic Site. Watch the introductory film in the Visitor Center theater, walk the historic trace, visit the historic home and outbuildings, or explore the interpretive museum located in the historic stable.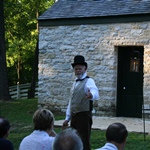 Special Events
Check here for a current listing of upcoming Special Events.


Did You Know?

When Ulysses Grant asked Julia Dent's father for permission to marry her, Ulysses was instead offered her younger sister, Ellen. Ulysses and Julia were married on August 22, 1848.