Kids! Collect stories about the Civil War and civil rights! The National Park Service is offering more than 500 trading cards to mark the 150th anniversary of the Civil War. Visit a park in person to earn a card (sorry, cards cannot be mailed). Ask a ranger or stop by the visitor center at a participating park. You can view all the cards online and discover stories from nearly 90 national parks in 31 states and the District of Columbia. You'll be surprised at what you will learn.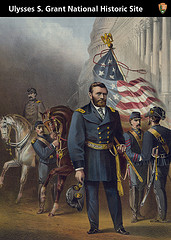 Library of Congress
Slavery as the Cause of the Civil War
In 1885 Ulysses S. Grant wrote his memoirs, recording his efforts to win the war and preserve the Union. While others attempted to revise Southerners' justification for secession, Grant wanted future generations to understand that "The cause of the great War of the rebellion against the United States will have to be attributed to slavery."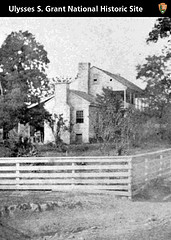 National Park Service
Freeing William Jones
White Haven, now Ulysses S. Grant NHS, mirrored the rest of the nation during the years before the war. Grant opposed his father-in-law's ownership of slaves, but recognized his legal right to do so. In March 1859, Grant acted on his beliefs; purchasing William Jones in order to "manumit, emancipate and set free said William from slavery forever."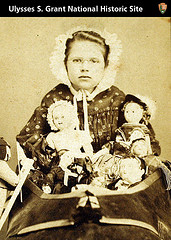 Library of Congress
Nellie Grant
Aiding Soldiers and Freedmen
Nellie Grant, daughter of General Ulysses S. Grant, portrayed the Old Woman in the Shoe at the Mississippi Valley Sanitary Fair held in St. Louis, Missouri in 1864. Funds raised at the fair were used to purchase medical supplies for wounded soldiers, aid soldiers' families, and house and educate African American freedmen and their families.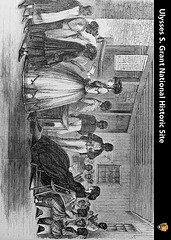 Library of Congress
Education at Last
Tens of thousands of newly freed slaves received food, clothing and medical care through the War Department's Freedmen's Bureau between 1865 and 1872. Young and old crammed schools established by the Bureau for the education previously denied to all African Americans. Education became the foundation for claiming their rights and exercising their responsibilities as citizens.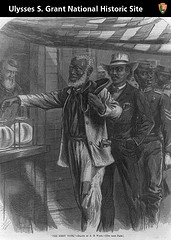 Library of Congress
Receiving the Right to Vote
"A Measure of Grander Importance"
The 15th Amendment gave African American men the right to vote. President Grant declared, "A measure which makes at once four millions of people voters...is indeed a measure of grander importance than any other one act of the kind from the foundation of our free Government to the present time." Women, black and white, could still not vote.