Please note that you will need the latest version of Apple's QuickTime software to view the movies below. If you do not have the latest version click here to download it for free.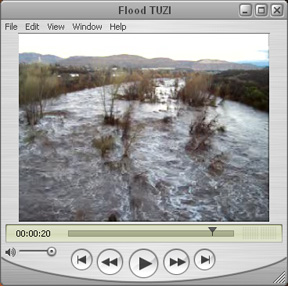 ---
Floods are common events in riparian ecosystems and this flood of the Verde River in December of 2004 was one of the most impressive that Tuzigoot has ever experienced. This video was shot from atop the bridge that crosses over the Verde on the way to the park. The Verde River is normally flows at a calm rate about around 70 cubic feet per second (CFS), but on this day it was 28,000cfs. Interestingly enough, while floods like this certainly damage the park, they are necessary events that ensure the health of the riparian ecosystem that the park is set aside to protect.
Quicktime Movie (5.93Mb)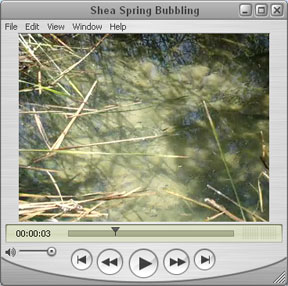 ---
Shea Spring is the primary water source that feeds Tavasci Marsh. In this video you are able to see the 'new' water enters the marsh from under the surface of soil of the spring. It "bubbles up"! Interestingly enough this process is identical to the presses that fills the Montezuma Well. Interestingly enough the flow rates at each location are also similar. Shea spring produces just under at million gallons of water a day, while the springs at the Well produces around 1.4 million gallons a day.
Quicktime Movie (1.19Mb)