Looking for a fun and educational way to learn about America's Civil War? Collect stories about the Civil War and civil rights with the National Park Service's Civil War to Civil Rights trading cards! The National Park Service is offering more than 500 trading cards to mark the 150th anniversary of the Civil War. Visit a park in person to earn a card (sorry, cards cannot be mailed). Ask a ranger or stop by the visitor center at a participating park. To earn your cards for Tupelo National Battlefield, you can visit the Natchez Trace Parkway Visitor Center near Tupelo, Mississippi, where you can also earn cards for the Natchez Trace Parkway, and Brices Cross Roads National Battlefield Site.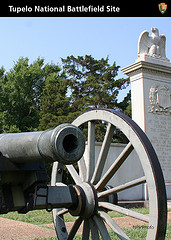 Tried and True in Battle
In July 1864, one month after the fierce fighting at Brices Cross Roads, members of the US Colored Troops again defended Union forces from repeated Confederate attacks. Their commander, Colonel Bouton, remarked the fight "… was a severe test of the soldierly qualities and power of endurance of my men."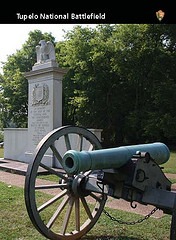 The Battle of Tupelo: Confederate Forces Intercepted
In July 1864, Federal troops were ordered to stop the advance of Confederate forces toward Union supply lines. In Tupelo, Mississippi, Confederate soldiers fought fiercely but could not overpower the Federal troops. Neither side could claim a complete victory, but the railroad supporting Union forces remained intact.