Anza Trail Impassable in Areas

Due to a large flood event, sections of the Anza Trail between the mission grounds and Tubac are impassable to both hikers and horses. Visitors may use the trail north to the first river crossing, but travel beyond that point is not recommended.
Pet Policy

In compliance with the Code of Federal Regulations and Superintendent's Compendium, Tumacácori prohibits pets from all government buildings and the mission grounds. More »
Schedule of Events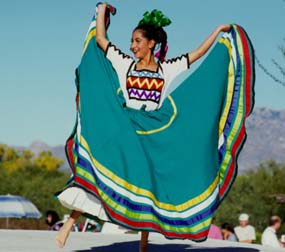 NPS Photo
Tumacácori hosts a number of outstanding events every year.
Guided tours
Cultural demonstrators
Special events
Prefer paper? Download the Calendar of Events (pdf, 557kb) for this year.
In the neighborhood? Search the Tubac Calendar for special events nearby.
Search the calendar below for a full schedule of events, including special concerts, extended hours, and more.
Search for Events
Events Upcoming for October
Showing 5 results

 RSS Feed
Did You Know?

Small pox and measles epidemics on numerous occasions killed far more people than all the Apache wars combined.