Mission Garden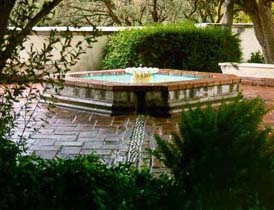 NPS Photo
In addition to the bookstore and museum, the visitor center features a beautiful, peaceful "mission garden" created in 1937 along with the the visitor center. Although it is not an original garden from the days that Tumacácori was an active mission, it is a carefully engineered replica of mission gardens everywhere.
When you visit Tumacácori, take a moment to sit by the fountain in the cool of the garden, just as O'odham and priest alike did in their garden two hundred years ago.
Some Mission Garden History
Once established, it took time, often years, before a mission had all its components. However, given the necessary time and money, it was certain that its missionary would see to the construction of a church, with workshops and classrooms surrounding a courtyard. Universally located in the courtyard, was a fountain, surrounded by a fruit and herb garden. In the mid-1700's when the first church was constructed at Tumacácori, there was undoubtedly a garden similar to the one located at the visitor center today. Other than the section of native plants of the Sonoran Desert, the vegetation growing in the garden represents plants introduced to this area by the Padres. There are herb specimens, such as rosemary, thyme, and myrtle. Trees include apricot, olive, pomegranate, and monk's pepper.