Now accepting TRT applications for summer 2015!
Applications are due June 12, 2015!
The Teacher-Ranger-Teacher (TRT) program is an extended professional development opportunity for educators from K-12 schools to learn about the resources and educational materials available through the National Park Services. Teachers participating in TRT will have the opportunity to engage in parks and park resources, participate in a webinar about lesson planning, and develop at least one lesson to be used in their classroom or school. They will also be able to assist the park with an education project and increase their understanding of place-based learning.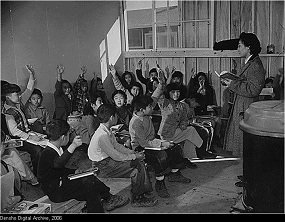 Densho
Tule Lake Unit TRT Program
Teachers selected as a TRT spend part of the summer working side-by-side with park rangers performing various duties such as developing materials for the 1st Tule Lake Unit Youth Summit which will be held in conjunction with the Tule Lake Pilgrimage
The TRT program provides a stipend, and 3 graduate credit hours through University of Colorado, Denver. Teachers will also gain new national park knowledge and experiences that they can bring into their classrooms to engage students, faculty, and staff in lessons and activities that relate to the Tule Lake Unit and other national park sites.
Benefits
To Teacher-Rangers:
3 graduate level credits from University of Colorado Denver

Obtain new knowledge and skills by working with park staff

Enhance curriculum in multiple content areas

Gain access to a wide array of teaching resources and tools

Develop a personal connection with national parks
To the Tule Lake Unit:
Opportunity to reach new or under-served audiences through innovative, engaging programs

Build a network of enthusiastic, knowledgeable educators who are able to teach their students and colleagues about the significance of national parks and heritage conservation

Development the first Tule Lake Youth Summit for 2016!!
Application Process
Teachers apply directly to the park by downloading and completing the application form. Applications are due June 12, 2015. Email applications to Angela Sutton at e-mail us