Enhancing Local and Regional Perspectives on Japanese American Incarceration
The Tule Lake Unit in partnership with National Japanese American Historical Society and the Golden Gate National Recreation Area will be offering a teacher workshop on
Saturday, November 7, 2015
.
Join us for an all day workshop and field trip to the Tule Lake Unit where they will learn how to access and use primary source materials to develop analysis and reasoning skills. Join us for an informative and dynamic exchange about the incarceration of Japanese Americans across the Pacific West. Utilizing a regional perspective, we will dispel the current narrative of a single experience for the Japanese Americans as we draw deeper conclusions and understanding of how and why this injustice took place. Case studies will compare pre and post war communities in Hawaii, Seattle and California.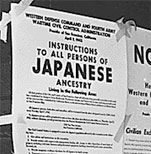 Participant Benefits
$100 institute stipend plus $50 for sharing with colleagues
Extensive complementary high school curricula designed to meet CCSS and 3C Framework and other teaching resources. Curriculum can be adapted by teachers for lower grades.
Continental breakfast and lunch
Tour of the Tule Lake Segregation Center Opportunity for high school teachers to pilot the curriculum
For more information and to register please click here.
For questions please contact education coordinator, Angela Sutton at 530-667-8119 or angela_sutton@nps.gov.