HELPING YOU DISCOVER THE TRAIL OF TEARS
Look left, look right, look straight ahead - the land has a story to tell. Imagine more than 15,000 Cherokee people being forced to march across Georgia, North Carolina, Tennessee, Alabama, Missouri, Illinois, and Arkansas. They walked hundreds of miles and were taken on wagons, steamboats, and flatboats to Indian Territory (present-day Oklahoma) in 1838-1839. Their ordeal is one to remember, sense, and see as you travel the Southeast.
These tell-tale signs will help you find and explore the stories, routes, and sites on the Trail of Tears.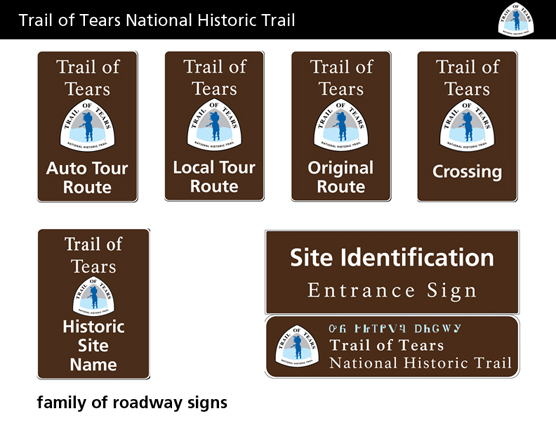 Auto Tour Route signs guide you along all weather roads that more or less follow the historic route of the trail. Look for Historic Site Name signs that clue you into places to experience on the trail. Follow the path of Cherokee removal from Georgia and North Carolina to Oklahoma.

Local Tour Route signs direct you over varied terrain following local low speed, rural, and even dirt roads. They follow a number of historic trail sites or segments in a small geographic area. In the spring of 1838, soldiers established "round up" forts and camps across Georgia and swiftly captured every Cherokee they could find.

Crossing signs alert you to locations where the historic trail crossed an existing road. Visit Pea Ridge National Military Park in Arkansas where staff will help you retrace a portion of the Trail of Tears. From Elkhorn Tavern to the city of Rogers and onto Fayetteville, following the path of removal, crossing many roads.

Original Route signs are exclusive. These signs tell you that you are on roads well documented as being the original trail. Follow Original Route signs to retrace the trail from Berry's Ferry, Kentucky through Pope County, Illinois. Walk in the Cherokee footsteps.

Historic Site Name signs steer you to historic trail sites or segments. Envision the harsh winter at Mantle Rock in Kentucky, a place where 11 detachments containing over 10,000 Cherokee passed through. One group of more than 1,600 had to spend two bitterly cold weeks waiting for the Ohio and Mississippi Rivers to thaw.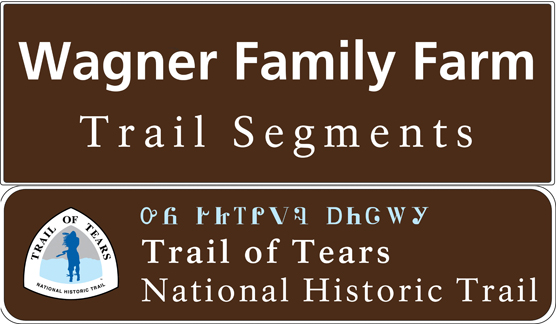 When you see a Site Identification sign, such as Wagner Family Farm in Pope County, Illinois (above), you know you have arrived at the entrance to a historic site, segment, or interpretive facility.