Getting Around
An auto tour route has been marked along major highways that closely follow the original trail route. Follow the signs exhibiting the distinctive Trail of Tears National Historic Trail logo. Use guidebooks or ask locally for directions to individual trail sites. Check this website periodically for updated information.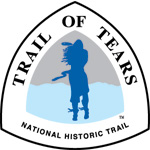 Follow the Trail of Tears National Historic Trail auto tour route marked with this distinctive logo.
For site-specific locations, visit Things to Do.


Did You Know?

The Cherokee people in the southeastern United States built European-style homes and farmsteads, developed a written language, established a newspaper, and wrote a constitution. But they had no equal protection under the law and could not prevent being removed from their homes on the Trail of Tears.