Visitor Center is closed

The Visitor Center and bookstore will be closed for several weeks for construction. A temporary Visitor Center will be set up in the parking lot. The trail to the Lower Cliff Dwelling will be open during this period. No entrance fees will be collected.
Outdoor Activities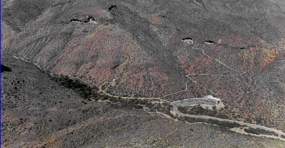 NPS Photo
Tonto National Monument has several trails available for hiking. Wear sturdy walking shoes, a hat, and sunscreen, and be sure to drink plenty of water while hiking.

The paved 1/2-mile Lower Cliff Dwelling trail ascends 350 vertical feet to the dwelling, and is considered moderately strenuous; allow about an hour for the round-trip walk.

The Cactus Patch is an off-shoot of the Lower Cliff Dwelling Trail. The paved 1/4-mile trail has interpretive signs about the cacti and other plants native to the Sonoran Desert. Allow about 20 minutes to complete this trail.
The unpaved 1.5-mile Upper Cliff Dwelling trail ascends 600 vertical feet, and is considered strenuous. You must be accompanied by park staff to visit this dwelling; guided tours are conducted from November through April, and last three to four hours. Three to four tours are given weekly, but are limited to 15 people and often fill quickly; call early for reservations.

Leashed pets are allowed on the Lower Cliff Dwelling and Cactus Patch trails; pets are not permitted on the Upper Cliff Dwelling trail.


Did You Know?

Tonto National Monument is home to a crested saguaro. Botanists disagree as to why some saguaros grow in this unusual form. Some speculate that it is a genetic mutation. Others say it is the result of lightning or freeze damage. About one in 150,000 saguaros develop this unusual growth.