For Kids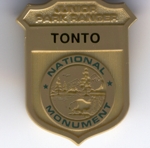 Tonto National Monument's Junior Ranger booklet includes games and activities that will teach your child about Sonoran Desert and the people who once called this place home. A Junior Ranger badge is awarded upon completion. There is no charge for the Junior Ranger program.
You can also become a Junior Web Ranger!


Did You Know?

Four different varieties of skunk have been seen at Tonto National Monument - the hooded, hog-nosed, striped, and spotted. They may look different, but they all smell the same! More...