Guided Tours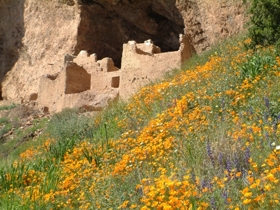 NPS Photo
Guided tours are offered to the Upper Cliff Dwelling at 10:00 a.m., from November through the end of April. Three or four tours are given weekly, depending on staffing. Tours are limited to 15 people and often fill quickly; call 928) 467-2241 for reservations.

Pets are not allowed on the Upper Cliff Dwelling Trail, and you cannot leave them in your vehicle.
The trail to the Upper Cliff Dwelling is a backcountry trail. The first half of the trail meanders through a wash while gaining elevation, and requires negotiating shallow water, and some climbing on large rocks. The second half of the trail winds steeply via switchbacks and requires climbing a total of about 60 unevenly spaced steps. Keep in mind that reaching the dwelling is only half of the hike; you must return via the same route.
The hike is 3 miles round trip, with an elevation gain of 600 feet. The tour takes 3 to 4 hours. Your guide will keep a moderate pace and stop frequently to talk about natural and cultural history. Rarely, a tour may be canceled due to extreme weather conditions or possible flash flooding. If we can anticipate this, we will try to call you.
You should consider this hike if:
1. You hike on a regular basis.
2. You engage in some sort of regular exercise several times weekly.
3. You have no serious health problems that limit your activities.
You should avoid this hike if:
1. You have had a serious illness, injury, or surgery recently and have not yet fully recovered.
2. You have problems with your balance, a respiratory condition, or other health problems that limit your activities.
3. You have little or no hiking experience.