Visitor Center is closed

The Visitor Center and bookstore will be closed for several weeks for construction. A temporary Visitor Center will be set up in the parking lot. The trail to the Lower Cliff Dwelling will be open during this period. No entrance fees will be collected.
Brochures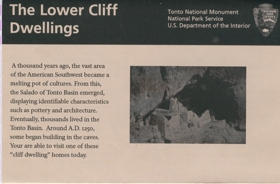 Click on the links for the park brochure, Upper and Lower cliff dwelling floorplans, a French translation of the Lower Cliff Dwelling floorplan, and German translations of the floorplan and other information.


Did You Know?

One of the earliest known cotton farming communities, dating from approximately AD 100 - 600, is located near Tonto National Monument.