Programs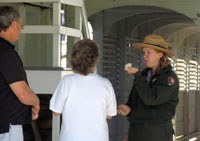 Programs are offered daily at sites within the Timucuan Preserve. Program schedules are different at each site, so we suggest you look at the schedule below, or call for more information.
Kingsley Plantation - House tours are available on weekends at 11:00 a.m. and 3:00 p.m. call 904.251.3537 for reservations.
Fort Caroline National Memorial -Come out to Fort Caroline on Sundays between 10:30 and 3:30 and experience living history! There will be different interactive programs varying from one Sunday to the next where you can learn about life for the newly arrived Europeans in Florida during the 16th century. Programs could include cooking demonstrations, hands-on weapons training and a chance to try on some replica historic clothing. Call 904.641.7155 for information as programs may be canceled due to inclement weather.
Ribault Club (Partnership Visitor Center) - For program information for the Ribault Club and Talbot Islands State Parks, click here.
For education programs for schools, please see our Education Guide.
For special programs, please see our Events Page.


Did You Know?

Timucua women wore skirts made from cured Spanish moss, which is not a moss at all but a member of the bromeliad family. More...