Programs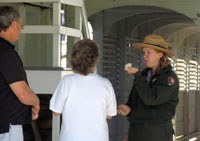 Programs are offered daily at sites within the Timucuan Preserve. Program schedules are different at each site, so we suggest you look at the schedule below, or call for more information.
Kingsley Plantation - House tours are avaliable on weekends at 11:00 a.m. and 3:00 p.m. call 904.251.3537 for reservations.
Fort Caroline National Memorial - Call 904.641.7155 for information.
Ribault Club (Partnership Visitor Center) - For program information for the Ribault Club and Talbot Islands State Parks, click here.
For education programs for schools, please see our Education Guide.
For special programs, please see our Events Page.


Did You Know?

Theodore Roosevelt never set foot within the Theodore Roosevelt Area, a unit of the Timucuan Ecological and Historic Preserve. More...