Partnership Areas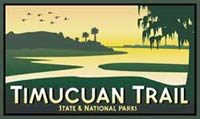 Timucuan Trail State and National Parks is a unique co-op between the City of Jacksonville, State of Florida and National Park Services. The group of parks includes some of the last unspoiled coastal wetlands on the Atlantic Coast and preserves the area's rich historic and prehistoric sites. Hiking, biking, and kayak trails weave through the seamless system of parks, giving visitors a rare view of pristine marshland, coastal dunes and maritime hammocks.
To learn more about this partnership click here.
Below are links to some of the sites you can visit in the Timucuan Trail State & National Parks:
Timucuan Trail (NEW!)
Fort Caroline National Memorial
Sisters Creek Marina and Park | Joe Carlucci Boat Ramp and Park
Talbot Islands State Parks

Explore the full range of dynamic coastal habitats & fun activities available at the Talbot Islands. Read More

Florida Sea Islands Paddling Trails

Find out where to take a paddle in the Timucuan Trail State and National Parks. Read More

Working Together

Download this media packet for an in depth look at the partnership (pdf 253 KB). Read More
Did You Know?

The Theodore Roosevelt Area, a unit of the Timucuan Ecological and Historic Preserve, contains nine distinct ecosystems; more than any other park in Jacksonville, Florida. More...