Kingsley Heritage Celebration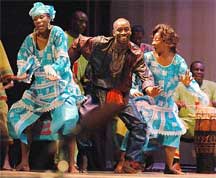 African Caribbean Dance Theater
2016 Kingsley Heritage Celebration
The National Park Service cordially invites you to the annual Kingsley Heritage Celebration. Please join us in remembering and celebrating the rich history of Kingsley Plantation and the many people who helped shape it. All events are free and open to the public.
February 20th 1:00 p.m.
Performances by the African Caribbean Dance Theater and Mama Koku, storyteller begin at 1:00 p.m. The Kid's Corner crafts and Plantation house tours run through the morning.
February 27th, 10:00 a.m.- 3:00 p.m.
Reenactors will be scattered throughout the island demonstrating the entire timeline of Fort George Island's history. Starting with the Timucuan Indians, the Spanish mission, and the British Fort, on through the Plantation era, and the Roaring Twenties, take a trip through the past.
Slide Show of Past Heritage Celebrations