Kingsley Heritage Celebration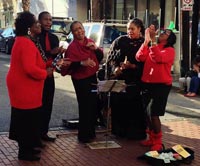 Ann Caldwell and the Magnolia Sisters
2015 Kingsley Heritage Celebration
The National Park Service cordially invites you to the annual Kingsley Heritage Celebration. Please join us in remembering and celebrating the rich history of Kingsley Plantation and the many people who helped shape it. All events are free and open to the public.
February 21st 1:00 p.m.
Follow the history of music from the cotton fields to the concert hall with performing historians Raymond Kamalay and Dr. Naima Johnston Bush. Enjoy the spirituals and story telling of Ann Caldwell and the Magnolia Sisters out of Charleston South Carolina. Visit the Kid's Corner at 10:00 a.m. where local teacher and performer Agnolia B. Gay will present a special performance for families. Immediately following the performance the craft booth and activity center will open.
February 28th, 10:00 a.m.- 4:00 p.m.
Reenactors will be scattered throughout the island demonstrating the entire timeline of Fort George Island's history. Starting with the Timucuan Indians, the Spanish mission, and the British Fort, on through the Plantation era, and the Roaring Twenties, take a trip through the past.
Slide Show of Past Heritage Celebrations