Road Closure

Palmetto Avenue, the main road to Kingsley Plantation will be closed April 28th-May 5th, 2014. Please take the Fort George Road detour to enter the site. Be advised large buses and RVs may not clear the low tree canopy of Fort George Rd.
Kingsley Heritage Celebration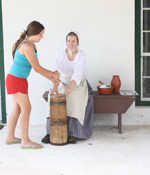 2014 Kingsley Heritage Celebration
The National Park Service cordially invites you to the annual Kingsley Heritage Celebration. Please join us in remembering and celebrating the rich history of Kingsley Plantation and the many people who helped shape it.
February 15th 1:30 p.m. Colonial singers, Senegalese guitar player, scholars, Kid's Corner and descendants' reception will entertain and enlighten. February 22nd 10:00 a.m.-4:00 p.m. Reenactors will demonstrate plantation life and mark the 200th anniversary of the end of the Patriot's War.
Slide Show of Past Heritage Celebrations


Did You Know?

The first translation of a Native American language into a European language – Timucuan to Spanish - occurred on lands within the Timucuan Preserve in the late 1500s. Fray Francisco Pareja did this translation at the Catholic mission of San Juan del Puerto on present day Ft. George Island. More...