Fort Caroline Closed on November 2nd

Fort Caroline National Memorial including Spanish Pond will be closed to the public on Sunday November 2nd, 2014. The visitor center and trails will reopen on Monday the 3rd of November. The Theodore Roosevelt Area and Ribault Column will remain open.
Kingsley Heritage Celebration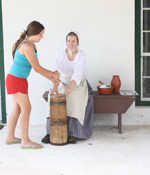 2014 Kingsley Heritage Celebration
The National Park Service cordially invites you to the annual Kingsley Heritage Celebration. Please join us in remembering and celebrating the rich history of Kingsley Plantation and the many people who helped shape it.
February 15th 1:30 p.m. Colonial singers, Senegalese guitar player, scholars, Kid's Corner and descendants' reception will entertain and enlighten. February 22nd 10:00 a.m.-4:00 p.m. Reenactors will demonstrate plantation life and mark the 200th anniversary of the end of the Patriot's War.
Slide Show of Past Heritage Celebrations


Did You Know?

Fort Caroline National Memorial was the site of the first conflict between Europeans over land that is now part of the Continental United States. More...