Kingsley Heritage Celebration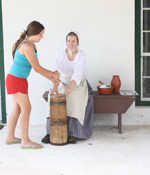 2014 Kingsley Heritage Celebration
The National Park Service cordially invites you to the annual Kingsley Heritage Celebration. Please join us in remembering and celebrating the rich history of Kingsley Plantation and the many people who helped shape it.
February 15th 1:30 p.m. Colonial singers, Senegalese guitar player, scholars, Kid's Corner and descendants' reception will entertain and enlighten. February 22nd 10:00 a.m.-4:00 p.m. Reenactors will demonstrate plantation life and mark the 200th anniversary of the end of the Patriot's War.
Slide Show of Past Heritage Celebrations


Did You Know?

Painted Buntings return to nest within the boundaries of the Timucuan Preserve each year in late April. More...