For Kids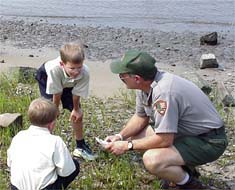 Fun by Discovery
Kids can explore history and nature in the Timucuan Preserve. Choose a link on the right to learn about kid-friendly activities at the park.
Junior Ranger Program
Kids can earn a Junior Ranger badge! Activities are appropriate for children ranging from age 4 - 12. Choose the program by age and park site. The Junior Ranger opportunities are detailed by choosing a link on the right.


Did You Know?

Fort Matanzas in St. Augustine, Florida is named for the slaughter of French Huguenots from Fort Caroline in 1565. In Spanish, "matanzas" means slaughters. More...