Fort Caroline Closed on November 2nd

Fort Caroline National Memorial including Spanish Pond will be closed to the public on Sunday November 2nd, 2014. The visitor center and trails will reopen on Monday the 3rd of November. The Theodore Roosevelt Area and Ribault Column will remain open.
For Kids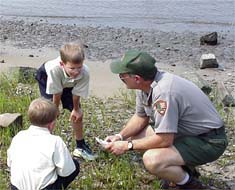 Fun by Discovery
Kids can explore history and nature in the Timucuan Preserve. Choose a link on the right to learn about kid-friendly activities at the park.
Junior Ranger Program
Kids can earn a Junior Ranger badge! Activities are appropriate for children ranging from age 4 - 12. Choose the program by age and park site. The Junior Ranger opportunities are detailed by choosing a link on the right.


Did You Know?

Timucua warriors wore their hair in a top knot, which made them appear taller. Historic drawings of Timucua and French contact show the Timucua to be of greater stature than the French. More...