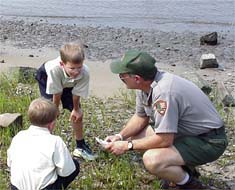 Fun by Discovery
Kids can explore history and nature in the Timucuan Preserve. Choose a link on the right to learn about kid-friendly activities at the park.
Junior Ranger Program
Kids can earn a Junior Ranger badge! Activities are appropriate for children ranging from age 4 - 12. Choose the program by age and park site. The Junior Ranger opportunities are detailed by choosing a link on the right.