Events at Fort Caroline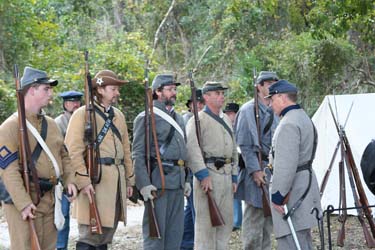 NPS Photo
Upcoming Programs
Fort Caroline National Memorial celebrates the 150th Anniversary of the Battle of St. John's Bluff
October 20th and 21st, 2012
The Battle of St. Johns Bluff took place near present day Jacksonville Florida from October first to October 3rd 1862. The incident ended in a Union victory allowing the Union to gain control of the strategic entrance to the St. John's River. In commemoration of this historic event, Fort Caroline National Memorial will host a Civil War Living History Encampment. The event will begin Saturday, October 20 and will be open to the public from 10am to 4pm on Saturday and from 10am to 3pm on Sunday October 21st. Visitors of all ages can experience what life was like during the Civil War in military camps and on the home front. Come see Union and Confederate soldiers, nineteenth century cooking, sewing and children's games, weapons demonstrations and cannon firings. This event is free and open to the public!
For more information, call 904.641.7155.
For directions, click here.


Did You Know?

One of the Huguenot inhabitants of la Caroline had the surname of "DuVal."  Jacksonville, Florida, where the national memorial is located, is within Duval County which is named for Florida's first civilian
territorial governor, William Pope Duval, a Huguenot descendant. More...