Events - Civil War Living History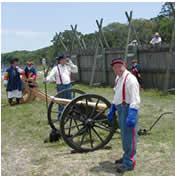 The City of Jacksonville donated a Civil War cannon to Fort Caroline in 2002, through the efforts of City Council member Lynette Self. This bolstered the programming available to the public at Fort Caroline. Rangers and volunteers reenact the 54th Massachusetts.
Click here (114 KB, pdf) for the brochure about the Civil War history of the Timucuan Preserve.
Click here for the "Civil War in Jacksonville 2010" flyer.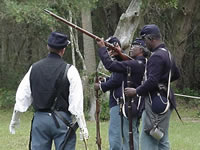 The Timucuan Preserve has taken part in a variety of living history events. Locations include Fort Caroline, Kingsley Plantation, and the Jacksonville Landing.
Return to Fort Caroline Special Events.
Did You Know?

Fort Caroline National Memorial was the site of the first conflict between Europeans over land that is now part of the Continental United States. More...