Campgrounds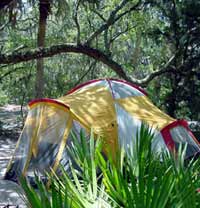 Florida Park Service
Camping is not available on National Park Service lands within the Timucuan Preserve, however, camping is available within the boundaries of the Preserve at two partner parks.
Little Talbot Island State Park


Did You Know?

The word "Caroline" - while feminine in gender - does not refer to a female of that name but rather to a man. The word "Caroline" comes from the Latin version of Charles in this case King Charles IX of France. More...