Fort Caroline Closed on November 2nd

Fort Caroline National Memorial including Spanish Pond will be closed to the public on Sunday November 2nd, 2014. The visitor center and trails will reopen on Monday the 3rd of November. The Theodore Roosevelt Area and Ribault Column will remain open.
Campgrounds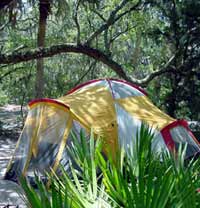 Florida Park Service
Camping is not available on National Park Service lands within the Timucuan Preserve, however, camping is available within the boundaries of the Preserve at two partner parks.
Little Talbot Island State Park


Did You Know?

Painted Buntings return to nest within the boundaries of the Timucuan Preserve each year in late April. More...