Campgrounds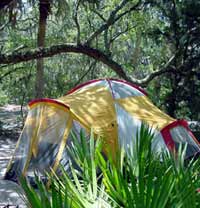 Florida Park Service
Camping is not available on National Park Service lands within the Timucuan Preserve, however, camping is available within the boundaries of the Preserve at two partner parks.
Little Talbot Island State Park


Did You Know?

The first translation of a Native American language into a European language – Timucuan to Spanish - occurred on lands within the Timucuan Preserve in the late 1500s. Fray Francisco Pareja did this translation at the Catholic mission of San Juan del Puerto on present day Ft. George Island. More...