Road Closure

Palmetto Avenue, the main road to Kingsley Plantation will be closed April 28th-May 5th, 2014. Please take the Fort George Road detour to enter the site. Be advised large buses and RVs may not clear the low tree canopy of Fort George Rd.
A Day in the Park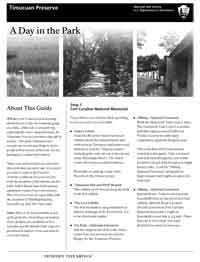 Have a day to spend at the Timucuan Preserve? This guide will show you park areas and how to get to them. You can talk with park staff at our visitor centers, take a hike (or several), explore historic sites, go to the beach, take a ride on a segway, go horseback riding or kayaking, and more!
We know you'll enjoy A Day in the Park! (pdf 1.2 MB)
We suggest that you also review:

Directions

Maps

History and Culture

Partnership Areas
"A Day in the Park" must be viewed using Adobe Acrobat Reader. To download this program (free), click here. If you have a slow internet connection, it may take a few minutes to access the file.
Did You Know?

The first translation of a Native American language into a European language – Timucuan to Spanish - occurred on lands within the Timucuan Preserve in the late 1500s. Fray Francisco Pareja did this translation at the Catholic mission of San Juan del Puerto on present day Ft. George Island. More...