Press Kit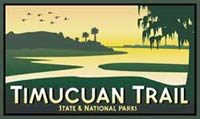 This media packet explains the Timucuan Trail State and National Parks partnership. Photographs are available upon request at any time.
Please also visit the Partnerships homepage for more information.
Did You Know?

Timucua warriors wore their hair in a top knot, which made them appear taller. Historic drawings of Timucua and French contact show the Timucua to be of greater stature than the French. More...