Press Kit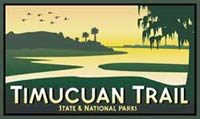 This media packet explains the Timucuan Trail State and National Parks partnership. Photographs are available upon request at any time.
Please also visit the Partnerships homepage for more information.
Did You Know?

The flag that flies over Fort Caroline is a sixteenth century French flag with "fleur de lis" heraldic symbols in gold on a blue background. The "fleur de lis" is an unoffical symbol of France. More...