Fort Caroline Closed on November 2nd

Fort Caroline National Memorial including Spanish Pond will be closed to the public on Sunday November 2nd, 2014. The visitor center and trails will reopen on Monday the 3rd of November. The Theodore Roosevelt Area and Ribault Column will remain open.
Press Kit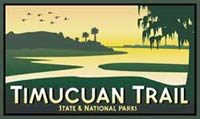 This media packet explains the Timucuan Trail State and National Parks partnership. Photographs are available upon request at any time.
Please also visit the Partnerships homepage for more information.
Did You Know?

Timucua women wore skirts made from cured Spanish moss, which is not a moss at all but a member of the bromeliad family. More...