Press Kit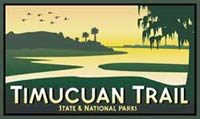 This media packet explains the Timucuan Trail State and National Parks partnership. Photographs are available upon request at any time.
Please also visit the Partnerships homepage for more information.
Did You Know?

Timucua women wore skirts made from cured Spanish moss, which is not a moss at all but a member of the bromeliad family. More...