Complete the Junior Ranger activities at Fort Caroline National Memorial/Timucuan Preserve Visitors Center and the Theodore Roosevelt Area or Kingsley Plantation and become an official Timucuan Preserve Junior Ranger! Pick up the application at Fort Caroline and Kingsley Plantation.

Kids who do the Timucuan Preserve Junior Ranger online program can participate from home to earn a certificate and a special sticker featuring Wade!
Click here to get started...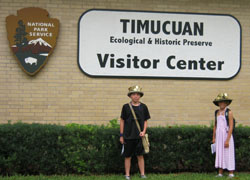 NPS Photo
Be sure to ask about the Junior Ranger program at every National Park Service site you visit. Start your collection today.