Archaeology Field Schools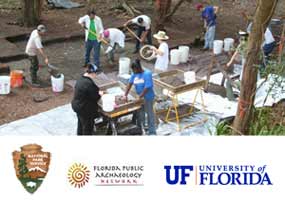 Ever wonder how archaeologists make sense of the past? Each summer field schools from the University of Florida and the University of North Florida participate in archaeological investigations within the Timucuan Ecological and Historic Preserve. According to the Timucuan Preserve's Brian Loadholtz, "This is a rare opportunity to see archaeologists at work. Archaeologists provide a window into the past, locating the tangible pieces of American history while helping put together the story of the people who lived at the plantation." Archaeologists will be happy to answer questions about their work, Mr. Loadholtz added.
Each summer the Preserve hosts an Archaeology Day, providing a chance for the public to observe an active dig site. Check our events page for details.
Learn more about archaeology in the park by asking a Ranger or by visiting the links below.
Mission Sites and the Timucuans
A Slave Graveyard at Kingsley Plantation
Return to History of Kingsley Plantation.
Return to Preserve Events