450th Anniversary Celebration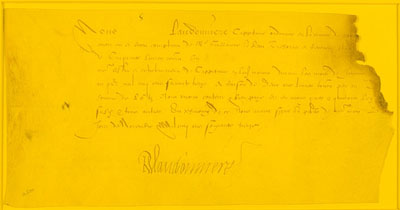 NPS Photo
Join us at Fort Caroline National Memorial for our celebration of the 450th anniversary of the French exploration of northeast Florida. Jean Ribault sailed to North America from France in February 1562. He arrived at the St. Johns River on May 1st and subsequently named our river the river of May.
May 1, 2012 events commemorated this achievement. Click to access the press release.
Learn more about the History of Fort Caroline.
To find out more about the City of Jacksonville's plans to commemorate this anniversary click here.
Hey kids, click here to find out about the limited edition 450th anniversary Junior Ranger badge.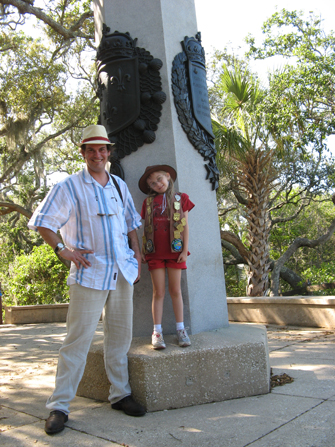 Farmery
Ribault Returns to Fort Caroline
Fort Caroline National Memorial has been commemorating the 450th Anniversary of the French voyage of discovery led by Jean Ribault arriving at the mouth of the River of May (St. Johns River) on May 1, 1562. The Ribault Monument pictured is a replica of a stone marker that was left by Ribault and his French explorers at the mouth of the river aftern their initial voyage. Among the many distinguished guests and visitors that participated in the 450th Anniversary events was Gaetan Ribault, a direct descendant of Jean Ribault. Pictured here are Gaetan Ribault and Jr. Ranger Ellen Phoebe Rain Farmery visiting the Ribault Monument the day before its rededication. Ms. Farmery was fortunate to hear the story of Jean Ribault's exploits from his descendant and his revelation that he (Gaetan) was the first Ribault to return to the area since the intrepid explorer Jean Ribault in 1562, almost 450 years ago to the day.
Jean Ribault's landing led to the establishment of Fort Caroline, which was destroyed in 1565. It is this history that Fort Caroline National Memorial commemorates and for which it was designated as a unit of the National Park Service. The National Park Service is partnering with the City of Jacksonville and numerous other groups for city-wide commemorations.