Uncover the Past at Kingsley Plantation
Teacher Workshops are offered every year at Kingsley Plantation. There educators are introduced to the entire Project Archaeology curriculum. They tour the site with a Ranger, participate in the hands-on lessons, and discuss ways to use and adapt Project Archaeology to meet their classroom goals.
The 2013 workshop will be held August 7th-8th from 9:00 a.m till 4:00 p.m. each day.
The workshop is:
Free
Continuing Education Unit eligible
Open to all teachers (public, private, and homeschoolers)
Over several subject areas (history, science, math, and writing)
A chance to interact with archaeologists, park rangers, and fellow teachers
Limited and by reservation
Call 904.251.3537 or
e-mail
emily_palmer@nps.gov to register.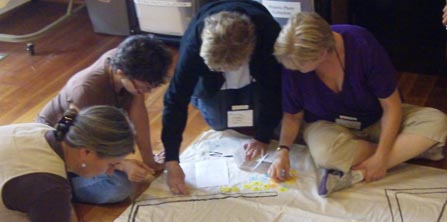 NPS Photo