Cave tour tickets

When you purchase your tickets on recreation.gov, the time options listed will be for your hike time, which is the time you should pick up your tickets at the visitor center. Plan on 3-4 hours from that time, round trip.
Where To Eat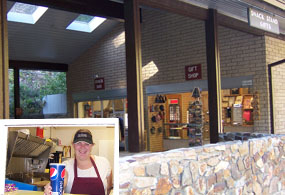 NPS
Open during the cave season, the snack bar and gift shop are located west of the visitor center. Food, beverages, sweatshirts and souvenirs are available. Call 801-756-5702 for more information.
For more information regarding dining in the local area please visit the Utah Valley Convention and Visitors Bureau at www.UtahValley.org.
Did You Know?

Frostwork, like it's name depicts, resembles hoarfrost growing outside on a foggy winter day. Most frostwork found in Timpanogos Cave is formed from aragonite, an unstable form of calcium carbonate. The delicate nature of these tiny crystals makes them particularly susceptible to damage and vandalism.