Caves closed for the season

Timpanogos Cave National Monument caves, cave trail, and visitor center are closed for the season. Caves are scheduled to open again mid-May 2015.
Where To Eat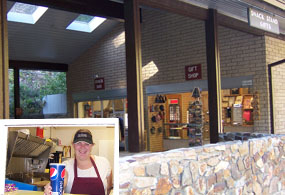 NPS
Open during the cave season, the snack bar and gift shop are located west of the visitor center. Food, beverages, sweatshirts and souvenirs are available. Call 801-756-5702 for more information.
For more information regarding dining in the local area please visit the Utah Valley Convention and Visitors Bureau at www.UtahValley.org.
Did You Know?
Cave Draperies, or Cave Bacon, form as calcite rich water trickles down an inclined bedrock surface. Over thousands of years a thin line of calcite builds up along the wall as water follows this same path over and over. These formations appear in caves in all different shapes, sizes and colors.