Caves closed for the season

Timpanogos Cave National Monument caves, cave trail, and visitor center are closed for the season. Caves are scheduled to open again mid-May 2015.
Where To Eat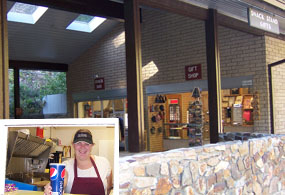 NPS
Open during the cave season, the snack bar and gift shop are located west of the visitor center. Food, beverages, sweatshirts and souvenirs are available. Call 801-756-5702 for more information.
For more information regarding dining in the local area please visit the Utah Valley Convention and Visitors Bureau at www.UtahValley.org.
Did You Know?
Timpanogos Cave is known for its high concentration of helictites - a spiraling cave formation that seems to defy gravity. Helictites are formed when calcite crystals and dissolved impurities are forced out of a tiny central canal in the helictite by hydrostatic pressure.