Cave tour tickets

When you purchase your tickets on recreation.gov, the time options listed will be for your hike time, which is the time you should pick up your tickets at the visitor center. Plan on 3-4 hours from that time, round trip.
Nearby Attractions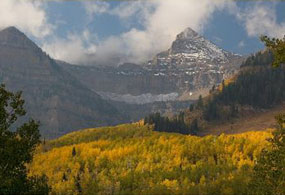 USFS, Bruce Tremper
For information regarding nearby attractions, lodging, and/or dining please visit the Utah Valley Convention and Visitors Bureau website at www.utahvalley.org.
For information on the surrounding Uinta-Wasatch-Cache National Forest including camping, hiking and other recreation opportunities click here.
Did You Know?

At an elevation of 11,750 ft, Mt. Timpanogos is the 2nd highest mountain in Utah's Wasatch Range. The word Timpanogos (tim´pa ­no´gas) comes from the Timpanogots Ute tribe who lived in the surrounding valleys from A.D. 1400. The name translates as rock (tumpi-), and water mouth or canyon (panogos).