Seasonal Closure

Final day for cave tours is Sept 22. The caves and visitor center will be closed for the winter season beginning Sept 23. The park will re-open in the Spring.
Nearby Attractions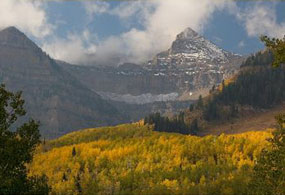 USFS, Bruce Tremper
For information regarding nearby attractions, lodging, and/or dining please visit the Utah Valley Convention and Visitors Bureau website at www.utahvalley.org.
For information on the surrounding Uinta-Wasatch-Cache National Forest including camping, hiking and other recreation opportunities click here.
Did You Know?

Timpanogos Cave is known for its high concentration of helictites - a spiraling cave formation that seems to defy gravity. Helictites are formed when calcite crystals and dissolved impurities are forced out of a tiny central canal in the helictite by hydrostatic pressure.