Cave tour tickets

When you purchase your tickets on recreation.gov, the time options listed will be for your hike time, which is the time you should pick up your tickets at the visitor center. Plan on 3-4 hours from that time, round trip.
Nearby Attractions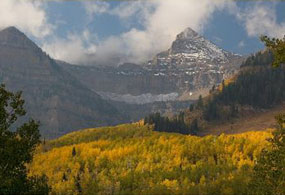 USFS, Bruce Tremper
For information regarding nearby attractions, lodging, and/or dining please visit the Utah Valley Convention and Visitors Bureau website at www.utahvalley.org.
For information on the surrounding Uinta-Wasatch-Cache National Forest including camping, hiking and other recreation opportunities click here.
Did You Know?
To tour Timpanogos Cave, our 70,000 visitors each year must hike the 1 1/2 miles trail to the caves, gaining over 1,100 feet in elevation.