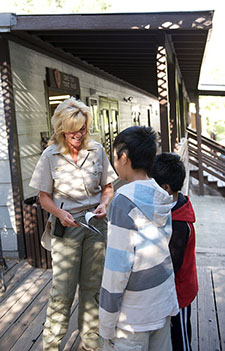 NPS
There are many different ways to support Timpanogos Cave
Public support and involvement is critical to the successful management of your public lands. From volunteering on the cave trail or shopping in our bookstore, there are many ways that you can support Timpanogos Cave National Monument and other Utah parks. It is through the donated time and energy of many groups and individuals that numerous projects are finished, programs are given, and park activities are made possible.
Volunteering
Among the most rewarding and fulfilling ways to directly support the park is to volunteer your time and talents. It's a great way to spend time outdoors, help others, and make new friends. Learn more about volunteer opportunities at Timpanogos Cave by clicking here.
Friends of Timpanogos Cave
Friends of Timpanogos Cave, a 501(c)3 nonprofit organization, is the local philanthropic partner of Timpanogos Cave National Monument and provides support for various park needs and opportunities. The Friends of Timpanogos Cave was formed by local citizens with a passion for the park and welcomes new members for both volunteer participation, general support, and financial support. Click here for more information.
National Park Foundation
The National Park Foundation, in partnership with the National Park Service, enriches America's national parks and programs through private support, safeguarding our heritage and inspiring generations of national park enthusiasts.
Chartered by Congress in 1967, the National Park Foundation is founded on a legacy that began more than a century ago, when private citizens from all walks of life took action to establish and protect our national parks. Today, the National Park Foundation carries on that tradition as the only national charitable nonprofit whose sole mission is to directly support the National Park Service. To learn more visit their website.
Western National Parks Association
Western National Parks Association (WNPS) operates the bookstore in the Timpanogos Cave visitor center. Through its bookstore sales, WNPA supports ongoing resource protection, research, education, and interpretation programs at Timpanogos Cave. On-line catalogs, membership information, and more about the Association is available here.
Monetary Donations
The best way to make a monetary donation is through one of the philanthropic partners listed above. Direct donations to the park may be accepted to help fund interpretation, visitor services, safety, and resource management programs. Donors should contact the superintendent at e-mail us or (801) 756-5239 for more information.