Plan Your Visit
Local College "Share Your History Day"
College of Southern Maryland, Prince Frederick Campus, Flagship Building
October 20, 2012 from 10:00 a.m. - 2:00 p.m.

Help preserve the rich heritage of Southern Maryland by sharing your history!
For more information about the event click here
Days and Hours of Operation:
Winter: 9-5 Wednesday-Sunday
Summer: 9-5 Wednesday- Sunday, except on Memorial Day, May 28th
Closed: Thanksgiving, December 25 and January 1
Interpretive Programs: Ranger-Led tours of Haberdeventure, Thomas Stone's home, are available until 4 pm. Tours last approximately 30 minutes.
Visitors are also welcome to experience the park at their own pace to stroll across the park grounds amidst the farm buildings or travel old farm trace roads and imagine the past.
Amenities: The park contains the restored home of Thomas Stone, outbuildings and family cemetery. A Visitor Center features exhibits, an orientation film, sales area and restrooms. Admission to the park is free. Parking is available at the Visitor Center.
Accessibility
The Visitor Center and Haberdeventure are accessible.
Pets
Please remember to keep your pets on leashes at ALL times while hiking, walking or jogging inside Thomas Stone National Historic Site. We hope you enjoy visiting YOUR National Park!
Geocaching
Thomas Stone NHS is now part of the geocaching network. For more information please contact the park at the contacts listed on this website.
For further information about the specific geocaching network at Thomas Stone NHS visit the link below:
Geocaching-Thomas Stone National Historic Site
Art Exhibit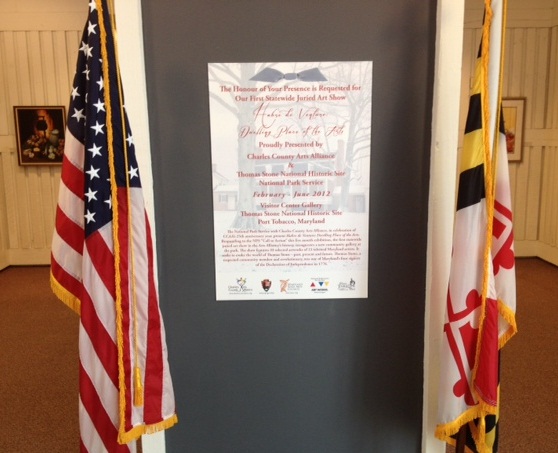 Through June 2012, Thomas Stone NHS in partnership with the Charles County (MD) Arts Alliance
is hosting an exhibit in the visitor center titled "Haberdeventure, Dwelling Place of the Arts." For those
interested in the exhibit and cannot make it to the park, click the link below to see the artwork in a virtual
art show. Then check out the Artists Book for a listing of the artists who created these wonderful pieces of art.

Virtual Art Show


Did You Know?

That many of the activities we enjoy today were enjoyed in the 1770's. This room was used by the Stone family as a home office, to listen to music, to read, a gathering area for family and friends and a place to eat.