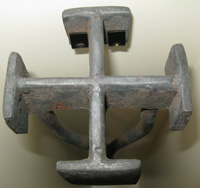 NPS Photo
Sylvane Ferris and Bill Merrifield were ranch hands at the Maltese Cross Ranch when Theodore Roosevelt first arrived in the badlands in 1883. Originally from New Brunswick, Canada, the two cowboys were tending a herd of 150 head of cattle on shares for investors from Minnesota, a common practice in those days. Merrifield made extra money by providing passenger trains with fresh venison. Both were known for being simple, quiet, and tough men.
Ferris and Merrifield were understandably skeptical of Roosevelt upon meeting him as he prepared for his initial buffalo hunting trip. Roosevelt wanted to borrow a horse for his hunting excursion. The cowboys knew nothing of the outsider, did not trust anyone who wore spectacles, and certainly did not want to loan a horse to a man they had only just met. For all they knew, the dude would ride off with their valuable horse. They finally agreed to loan the horse, but only after Roosevelt offered to buy the horse instead.
During his hunting expedition, Roosevelt held lengthy conversations about cattle ranching with another newcomer to the badlands, Gregor Lang, before deciding to invest in his own ranch. Roosevelt asked Lang to tend his cattle, but Lang politely refused and suggested Sylvane Ferris and Bill Merrifield would be good ranch hands instead.
Shortly thereafter, Roosevelt, Ferris, and Merrifield met in Lang's cabin to discuss the proposition. Roosevelt offered to buy the cattle the men were already tending and handed over a check for $14,000. Merrifield later recalled that when he asked Roosevelt if he wanted a receipt, Roosevelt said, "Oh, that's all right."