T.R. Sound Recordings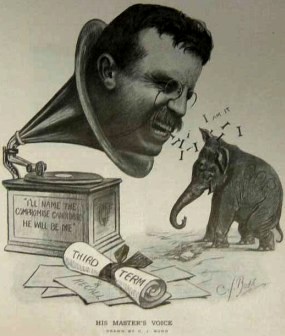 As long-time friend Jacob Riis once said of Theodore Roosevelt: "When he speaks, there is not often much applause, and when there is, he often raises his hand with a warning gesture to stop it. Both his hearers and he are much too interested in the thing he says to pay great heed to the way he says it. But when it is over, his hearers go away, thinking. They know exactly what he meant, and, for the best of reasons—he did."
Theodore Roosevelt was a consummate orator and often drew large crowds. Most of his speeches were not recorded, although he made some cylinder recordings for the Edison Company as well as some 78 r.p.m. discs for the Victor Talking Machine Company.
The following links will redirect you to voice libraries where you can listen to recordings of Theodore Roosevelt: