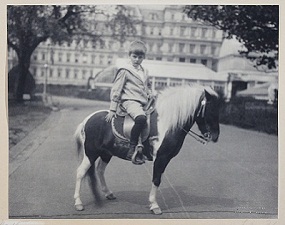 NPS
Young Archie Roosevelt was given a calico Shetland pony named Algonquin.
Once, when Archie was recovering in bed from being sick with the measles, he begged to be allowed to see his animal friend, but was told he was too weak to visit the stables. Thus, the pony was led into the White House elevator and up to the second floor. The pony trotted into the boy's room, and soon, the boy was up and galloping around the grounds.
Archie… "had a visitor the other day whose call will do more to restore him to health than all the medicine the doctor can give him."