Plan A Field Trip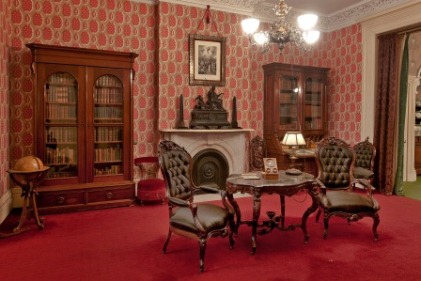 NPS
Please allow one hour for a tour of the period rooms. Allow thirty minutes for viewing a film. The complete visit should take approximately one and one half hours.

Groups will tour the site in small groups of ten to twenty students (two groups maximum). Please divide your class before you arrive and assign at least one adult chaperone to each group to serve as the group leader.

Before arriving for your visit, please advise the class that the historic objects in the museum and period rooms are quite fragile and therefore cannot be handled or touched.

Prepare your students for a rewarding experience using our curriculum materials, which can be found to the left under the "For Teachers" tab. These materials enrich a student's engagement with the site during the visit and offer takeaway activities to continue the lesson after a visit.

Restrooms are available at the site. There are no eating facilities at the site and no food or beverages are permitted in the building. Union Square, three blocks south, and Madison Square, three blocks north, are nearby areas to have lunch.
Please call 212-260-1616 to make reservations with a ranger. Be sure to make the staff aware of any themes or topics for your program. Please make reservations at least two weeks in advance. Voicemail messages cannot be used for confirmation.