Reminder, Bison Are Wild Animals

Windmill Pasture is home to the bison herd. They have been quite active in recent weeks. Please stay on the trails and use caution in their vicinity. Do not come in close contact with the bison. Allow at least 100 yards between you and the herd. More »
Self-Guiding Headquarters Tour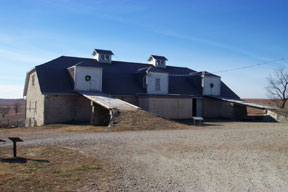 Historic Ranch Headquarters Tours -
(Approximately 1 hour)

Visitors can tour the historic ranch headquarters, prairie overlook, and schoolhouse area using a brochure, wayside exhibits, or listen in with the new Cell Phone Tour. Brochure maps may be found at the kiosk at the base of the hill, at the visitor center, or downloaded from the Publications page.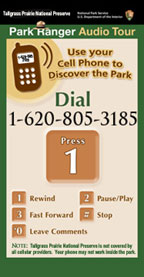 Self-guiding Headquarters
Cell Phone Tour
Click on the links below to visit via the internet or you may call (620) 805-3185 and punch in the tour stops to learn about the historic 1881 Spring Hill Farm and Stock Ranch, the prairie, and the one-room schoolhouse.

Historic Buildings and Prairie Overlook
Did You Know?

Cattle can gain up to 2 pounds per day grazing on the prairie grasses of the Flint Hills. The calcium found in the limestone erodes into the soil, making the prairie plants more nutritious for grazing animals. Cattle grazing is still the main agricultural use of the Flint Hills today.