Reminder, Bison Are Wild Animals

Windmill Pasture is home to the bison herd. They have been quite active in recent weeks. Please stay on the trails and use caution in their vicinity. Do not come in close contact with the bison. Allow at least 100 yards between you and the herd. More »
Handicap Parking Available at Visitor Center

For the next several months, the handicap parking area by the barn is closed until the barn construction project is complete. Handicap parking is available at the Visitor Center.
New Visitor Center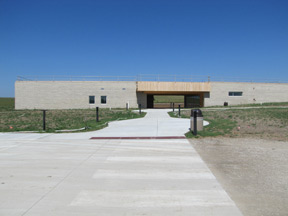 When you reach the site, turn left into our new parking area to begin your visit. The new facility has restrooms, water fountains, a short orientation film, Jr. Ranger activities, temporary exhibits, and friendly rangers to help make your experience a good one. Welcome everyone.
Visitor Center Dedication and Celebration Event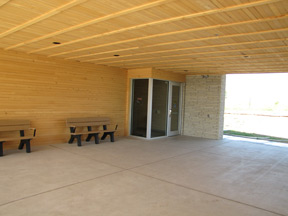 After entering the breezeway of the new facility, the visitor center is the building on the left with the entry way at the back. The photo to the left shows the visitor center door. See Operating Hours and Seasons page for schedule.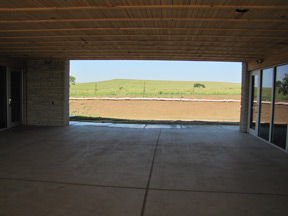 Enjoy a nice breeze and benches, while looking out over the prairie and waiting for one of our bus tours. Bus tours leave from the new visitor center. Reservations for the bus tours are available inside at the information desk. Visit the Bus Tour page for schedule.
Did You Know?

Zebulon Pike unknowingly named the Flint Hills based on his journal entry in 1806 as he camped and passed through very 'ruff' hills of flint. This flint kept the prairie from being tilled. Tallgrass Prairie National Preserve