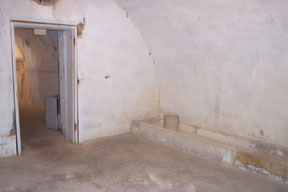 Photo of the spring room interior. Originally, Mr. Jones piped spring water through the kitchen, down the tunnel, and into the spring room where it collected in a trough. The directed and constant flowing cool, underground spring water encircled crocks filled with milk, butter, and cheese, keeping the food at a consistent temperature.

After encircling the room, this "used" spring water exited the spring room via a narrow interior trough and collected in an underground cistern located to the east of the spring room.
During the early 20th century, the springs stopped flowing at their original rate and it was no longer a viable cooling solution.However, even with no cool spring water, the room is still much cooler than the outside summertime temperatures.
The view is looking back into the tunnel between the spring room and the kitchen. Notice the crock sitting in the trough. The spring house was similar to our walk-in refrigerators and is still used today in some parts of the country.